"; _cf_contextpath=""; _cf_ajaxscriptsrc="/cf_scripts/scripts/ajax"; _cf_jsonprefix='//'; _cf_websocket_port=8579; _cf_flash_policy_port=1243; _cf_clientid='C6432EAD1636B4AE79733C690D51738C';/* ]]> */
X
Notice:
Due to state & local regulations, some hotel shuttle transfers, food, amenities, and services may be temporarily unavailable or modified. We do our best to keep our information accurate on our website, however, please contact us or the hotel for the latest in service & amenity availability. Thank you for your understanding.
Dismiss

USA Owned & Operated
Established 2003
Comfort Suites Brand Overview
Back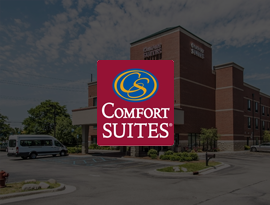 Overview
Comfort Suites properties are well-known for their spacious layout. This is an all-suites property, and travelers enjoy 25% more space than the traditional hotel room! Each room includes a sofa, mini-fridge, and microwave, all for your convenience! Be prepared to indulge in a hot breakfast, complimentary of the Comfort Suites brand. Most locations also have pools and fitness centers. If you are looking for a modest price for more space, look no further than the Comfort Suites!
---
Our Comfort Suites Properties