"; _cf_contextpath=""; _cf_ajaxscriptsrc="/cf_scripts/scripts/ajax"; _cf_jsonprefix='//'; _cf_websocket_port=8579; _cf_flash_policy_port=1243; _cf_clientid='B79D7E6EF165780A5B9BC177E46FA09D';/* ]]> */
X
Notice:
Due to state & local regulations, some hotel shuttle transfers, food, amenities, and services may be temporarily unavailable or modified. We do our best to keep our information accurate on our website, however, please contact us or the hotel for the latest in service & amenity availability. Thank you for your understanding.
Dismiss

USA Owned & Operated
Established 2003
Four Points Sheraton Brand Overview
Back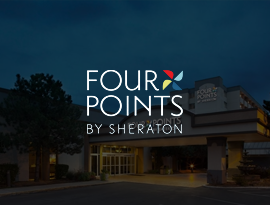 Overview
Four Points by Sheraton properties are the third-largest brand under Starwood Hotels and Resorts. This mid-size hotel brand is typically full-service, featuring restaurants and lounges, and several included amenities are free Wi-Fi and free bottled water. Each Four Points Sheraton has an individual personality, and is both popular and highly rated above other mid-size hotels by critics. These hotels are interior corridor and are ideal for business and leisure travelers alike. Comfort, relaxation, and great service are components experienced by guests who stay at Four Points Sheraton properties.
---
Our Four Points Sheraton Properties