"; _cf_contextpath=""; _cf_ajaxscriptsrc="/cf_scripts/scripts/ajax"; _cf_jsonprefix='//'; _cf_websocket_port=8579; _cf_flash_policy_port=1243; _cf_clientid='CA60F41AAE018ED1A8D2E8241AD513AF';/* ]]> */
X
Notice:
Due to state & local regulations, some hotel shuttle transfers, food, amenities, and services may be temporarily unavailable or modified. We do our best to keep our information accurate on our website, however, please contact us or the hotel for the latest in service & amenity availability. Thank you for your understanding.
Dismiss

USA Owned & Operated
Established 2003
Holiday Inn Express Brand Overview
Back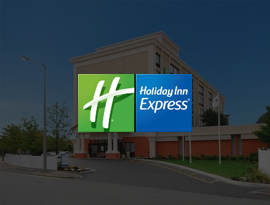 Overview
The Holiday Inn Express is well priced hotel chain. Being that this chain is offering "Express" hotels the focus is on offering limited service and competitive rates for business and leisure travelers. They describe their hotel as "The smart choice for travelers who need a simple, engaging hotel to rest, recharge and get a little work done". All Holiday Inn Express hotels include complimentary breakfast. What better way to start your Park and Fly getaway than to enjoy a complimentary breakfast? Additional amenities include Free High-Speed Internet Access, a great shower featuring a multi-function showerhead, and your choice of pillows. On your bed you will find both firm and soft pillows to choose from. This makes Holiday Inn Express a great Airport or Seaport hotel choice for leisure and business travelers.
---
Our Holiday Inn Express Properties