"; _cf_contextpath=""; _cf_ajaxscriptsrc="/cf_scripts/scripts/ajax"; _cf_jsonprefix='//'; _cf_websocket_port=8579; _cf_flash_policy_port=1243; _cf_clientid='86D5C978166B27E358D89886FAD7E36B';/* ]]> */
X
Notice:
Due to state & local regulations, some hotel shuttle transfers, food, amenities, and services may be temporarily unavailable or modified. We do our best to keep our information accurate on our website, however, please contact us or the hotel for the latest in service & amenity availability. Thank you for your understanding.
Dismiss

USA Owned & Operated
Established 2003
Quality Inn Brand Overview
Back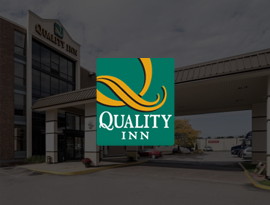 Overview
This budget property makes getting a great night's sleep easy. All Quality Inn hotels are limited-service, but offer hot, complimentary breakfast in the morning and have friendly staff. These hotels also include free, high-speed Internet access, coffee, and tea. Quality Inn properties make travel very affordable by typically eliminating the unnecessary bells and whistles of other hotels, and provide a simple stay to send travelers on their way. Please note that Quality Inns typically are exterior corridor.
---
Our Quality Inn Properties