"; _cf_contextpath=""; _cf_ajaxscriptsrc="/cf_scripts/scripts/ajax"; _cf_jsonprefix='//'; _cf_websocket_port=8579; _cf_flash_policy_port=1243; _cf_clientid='56EF398DAAC12ADA5FE879CFD0DA40AB';/* ]]> */
X
Notice:
Due to state & local regulations, some hotel shuttle transfers, food, amenities, and services may be temporarily unavailable or modified. We do our best to keep our information accurate on our website, however, please contact us or the hotel for the latest in service & amenity availability. Thank you for your understanding.
Dismiss

USA Owned & Operated
Established 2003
Ramada Hotel Brand Overview
Back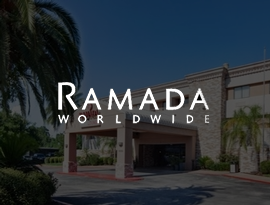 Overview
This hotel chain is an extremely well-known brand. Ramada Hotels are found throughout the world, with over 900 properties found in 50 countries! At the Ramada, you'll find attractive styles and free high-speed Wi-Fi. The bathrooms are stocked with San Francisco Soap Company amenities. These hotels generally have swimming pools, on-sight restaurants (or a la carte food services), business services, and fitness services at most locations. Ramada Hotels are a mid-range economical choice that makes travel more affordable for everybody!
---