"; _cf_contextpath=""; _cf_ajaxscriptsrc="/cf_scripts/scripts/ajax"; _cf_jsonprefix='//'; _cf_websocket_port=8579; _cf_flash_policy_port=1243; _cf_clientid='5E7FEA276CE9E2F8008808DD225A5EBA';/* ]]> */
X
Notice:
Due to state & local regulations, some hotel shuttle transfers, food, amenities, and services may be temporarily unavailable or modified. We do our best to keep our information accurate on our website, however, please contact us or the hotel for the latest in service & amenity availability. Thank you for your understanding.
Dismiss

USA Owned & Operated
Established 2003
Red Roof Plus Brand Overview
Back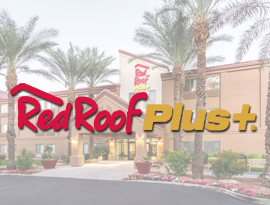 Overview
Red Roof Plus+ Upscale Economy(R) hotels feature modern upgrades and enhanced comfort, style and service at an affordable rate.
---
Our Red Roof Plus Properties