"; _cf_contextpath=""; _cf_ajaxscriptsrc="/cf_scripts/scripts/ajax"; _cf_jsonprefix='//'; _cf_websocket_port=8579; _cf_flash_policy_port=1243; _cf_clientid='04189CCF6D45F491BEB2E1DC379328F9';/* ]]> */
X
Notice:
Due to state & local regulations, some hotel shuttle transfers, food, amenities, and services may be temporarily unavailable or modified. We do our best to keep our information accurate on our website, however, please contact us or the hotel for the latest in service & amenity availability. Thank you for your understanding.
Dismiss

USA Owned & Operated
Established 2003
Residence Inn Brand Overview
Back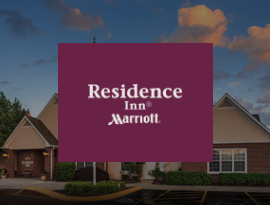 Overview
Residence Inn hotels is another spacious extended stay hotel by Marriott. This brands motto is Live, Work and Relax. It makes business trips less stressful and more enjoyable! The hotel provides a complimentary, delicious and healthy hotel breakfast every morning, as well as mixing things up with social evenings including tasty bites and cocktails Monday through Wednesday. The spacious suites are designed to make you feel at home, each room has fully equipped kitchen with full-sized refrigerator, stove, microwave and coffee maker. There is also complimentary WIFI in all suites and common areas. This brand encourages you to discover the Residence Inn Mix by taking a relaxing swim in the refreshing pools or going for a soothing jog in the fitness center while watching your favorite evening program on TV. They also provide a modern and inviting lobby to relax outside of your suite as well as outdoor spaces with fire pits.
---
Our Residence Inn Properties