Due to the holiday, our office will be closed Monday 5/25. Thank you!

USA Owned & Operated
Established 2003
Salvatore's Garden Place Brand Overview
Back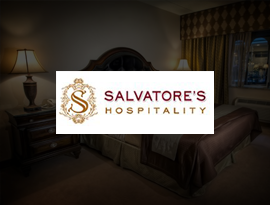 Overview
The Salvatore's Garden Place is certainly a gem! The property is unique and can only be found in Williamsville, New York, which is only two and a half miles from the Buffalo Niagara International Airport. You'll be pleasantly surprised by the gorgeous boutique design and Italian feel. The clean and comfortable rooms are nice and business-class oriented, and include refrigerators, flat screen HDTVs, coffee makers, and sometimes microwaves. Breakfast is free, and delicious! You will really enjoy your stay at this beautiful hotel!
---
Our Salvatore's Garden Place Properties