"; _cf_contextpath=""; _cf_ajaxscriptsrc="/cf_scripts/scripts/ajax"; _cf_jsonprefix='//'; _cf_websocket_port=8579; _cf_flash_policy_port=1243; _cf_clientid='8A339137593A875D6416F460C6656484';/* ]]> */
X
Notice:
Due to state & local regulations, some hotel shuttle transfers, food, amenities, and services may be temporarily unavailable or modified. We do our best to keep our information accurate on our website, however, please contact us or the hotel for the latest in service & amenity availability. Thank you for your understanding.
Dismiss

USA Owned & Operated
Established 2003
SureStay Hotel Group Brand Overview
Back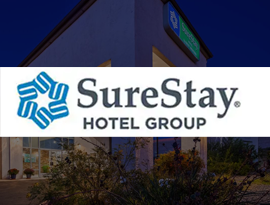 Overview
At SureStay Hotel Group (R), we understand every trip and every traveler has unique needs. That's why we've created a new hotel experience that combines quality and service at a great value. Everything you need, nothing you don't want. SureStay(R) Hotels by Best Western welcome those who like to travel simply and casually. Delivering the value and comfort today's traveler expects, SureStay Hotels offer the necessities for a good night's stay.
---
Our SureStay Hotel Group Properties