"; _cf_contextpath=""; _cf_ajaxscriptsrc="/cf_scripts/scripts/ajax"; _cf_jsonprefix='//'; _cf_websocket_port=8579; _cf_flash_policy_port=1243; _cf_clientid='B390098788E091ADD0DCD50773C9C21B';/* ]]> */
X
Notice:
Due to state & local regulations, some hotel shuttle transfers, food, amenities, and services may be temporarily unavailable or modified. We do our best to keep our information accurate on our website, however, please contact us or the hotel for the latest in service & amenity availability. Thank you for your understanding.
Dismiss

USA Owned & Operated
Established 2003
TRYP by Wyndham Brand Overview
Back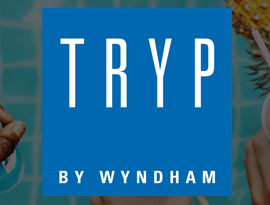 Overview
Inspired by the cities we call home, TRYP by Wyndham channels the energy of the world's most exciting destinations to bring you local experiences wherever you go. Our sleek hotels feature city-influenced design, social lobby spaces, and modern conveniences, along with savvy staff members who can help you tap into the city to uncover the coolest places. Explore the world with us.
---
Our TRYP by Wyndham Properties