NYC "Must See" Attractions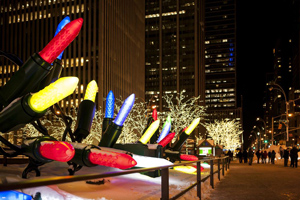 | | |
| --- | --- |
| By: Matt Rhoney | Date: 12-16-2015 |
NYC around Christmas is usually characterized with shopping and spending time with loved ones enjoying everything the city has to offer. Christmastime is a time for showering those we love with special gifts, and what better than a trip to New York City?! This is one of the top destinations in the US that lights up especially during the holiday season. If you are planning to be in this area during the holidays, these are a few attractions that are definitely worth checking out.
Most Popular "Must-See" Attractions in NYC
If you are visiting New York for the first time, you are heartily welcomed to the city of vast attractions, with so many places you can't afford to miss. Let's start the list with some of the classic must-sees:
NYC's Top of the Rock

Located on the 70th floor of GE building, Manhattan's Center (Rockefeller), it offers visitors breathtaking views of the city. There are three observation decks with phenomenal views. Be sure to check out its 80ft tree with more than 30,000 lights.

Ground Zero-Museum Workshop

It is one of the most famous museums in NYC that is characterized with about 100 photographs and other artifacts. With its strategic location around Meatpacking District, it is just few minutes' walk from the popular Chelsea shopping center.

Metropolitan Opera

This opera center attracts notable conductors and other singers worldwide. For those who love opera, it should be a must-see on their list.

Guggenheim Museum

This unique museum was built by Frank Wright who spent his time and energy making it beautiful only to die about six months to its launching. The architectural design of the museum are exceptional and the result of true diligence.

The Metropolitan Museum of Art

It is not exaggeration to describe it as the one of the largest galleries of art in this world. Art works are featured from Ancient Egypt, Asia, and classical antiquity to Europe. There are also various categories of musical instruments, weapons, costumes, armor and accessories from different parts of the world. It is a sure stop for visitors who want to learn about other cultures.

Bryant Park

Whether you go for the boutique shops or for ice-skating, this is sure to make the whole family happy.

Sixth Avenue Decorations

Nothing says Christmas-time more than oversized ornaments and lights every which way you turn!

Radio City Music Hall

This has been a fixture since 1933. Be sure to check what spectacular events NYC has planned for this holiday season.
Commute Safely
This period of the year in NYC is a busy one, with many people visiting for the holidays and other events. The best NYC commuting option may be using the subway and walking. Klein Lawyers state that many car accidents are a result of distracted driving, drunk driving, bad weather conditions, reckless or aggressive driving, and speeding, among other causes. You can expect most of these conditions to be taking place in New York City roadways. Although it is a festive time, it can also be a dangerous time with everyone rushing to get to their destinations. To avoid accidents and save money, skipping cabs and hopping on the subway might be your safest bet. This gives you the opportunity to see the beautiful attractions strategically located around the city and get to know beautiful NYC from a resident's perspective.
Will you be in NYC this Christmas? What attractions are you looking forward to seeing?
Planning on visiting NYC? Check out our selection of hotels in EWR and JFK
Author Spotlight
Matt Rhoney is an avid reader on trending topics and a writer in his spare time. He usually spends his time mapping out where his next expedition will take place and elaborating on his experience with others. He loves to write pieces on health, fitness, and wellness, but often writes about families and safety.